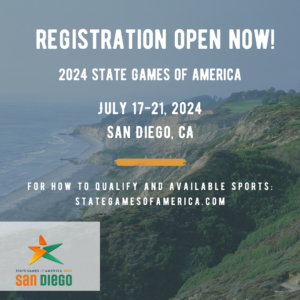 If you are interesting in being a part of the 2024 State Games of America, click this link to register: stategamesofamerica.com.
State Games Draws Nearly 5,000 Athletes in June
MERIDIAN, MS —The State Games of Mississippi ended the busy part of its 32nd year with nearly 5,000 athletes participating in 36 sports during the month of June. And the competition isn't over yet — amateur athletes have five more sports to compete in over the coming months.
Coming up as the last half of the year winds down are Basketball 15 & Over, Fitness Challenge, Junior Golf, Softball Youth Fast Pitch and Martial Arts. Registration is open for each of these sports at StateGamesofMS.org.
The 32nd Games opened with a spectacular Opening Ceremony in Meridian — complete with a flyover, parade of athletes and lighting of the State Games cauldron by our three 2022 athletes of the year. Thousands attended the event as the Games kicked into high gear.
New to the Games this year was Adult Baseball, with fierce competition. Sports offered in 2023 ranged from barrel racing to corn hole and All-Star Baseball and top soccer competition.
"Of course, we couldn't have this level of amateur competition in so many sports without the support of our many sports directors, volunteers and sponsors," said Executive Director Missye Dozier. "It is a testament to the quality of Games to have this type of support and longevity."
About the State Games of Mississippi
The State Games of Mississippi offers top-level competition for Mississippi's amateur athletes. The State Games of Mississippi keeps its entry fees low primarily through the generous donations of sponsors, including Founding Gold Sponsors: Meridian Coca-Cola Bottling Company and Ochsner Rush Hospital; and Gold Sponsors: BlueCross BlueShield of Mississippi, Paul & Sherry Broadhead Foundation, Meridian Community College, the City of Meridian, Pearl River Resort, the Mississippi Band of Choctaw Indians, VisitMeridian.com, WTOK-TV, The Meridian Star and WMDN/WGBC-TV (The Meridian Family of Stations). For more information on the Games, call 601-482-0205 or visit the State Games of Mississippi website at StateGamesofMS.org.