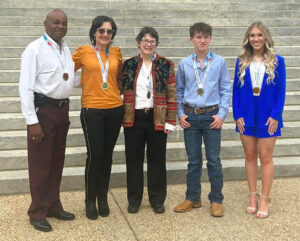 Ochsner Rush Athletes of the Year Visit Legislators
(PICTURED ABOVE: From left: LeeRoy Carpenter, Tere Turner, Sarah Lea Anglin, Cooper Conner & Kaylee Harrison.)
MERIDIAN, MS – Ochsner Rush Athletes of the Year for State Games of Mississippi recently visited with state legislators at the Mississippi capitol. The star athletes from 2021 and 2022 made the rounds at the Mississippi House of Representatives and the Senate to promote amateur athletes from throughout Mississippi with their visit.
Now entering its 32nd year, the State Games of Mississippi had more than 5,000 competitors in 41 sports in 2022. "It was amazing to see the levels of competition and the spirit during the 2022 events," said Missye Dozier, Executive Director of the Games. "And we are so grateful to our sponsors and volunteers as they continue to stand strong in support of everything we do for Mississippi's amateur athletes."
Based on the national program, the State Games of Mississippi established the annual Ochsner Rush "Athlete of the Year" award to recognize Mississippi's amateur athletes. Coaches, officials, athletes, volunteers and spectators nominated one male and one female athlete from each of the sports for the award. The nominated athletes personify the ideals of the State Games movement, such as participation, sportsmanship, special attributes, achievements, efforts and positive attitudes. Three final winners are chosen: Male, Female and Youth Athletes of the Year.
Representing the State Games of Mississippi for the recent visit to the Mississippi legislature were:
Tere Turner • 2021 Female Athlete of the Year
When Mountain Biker Tere Turner crashed during the 2021 State Games of Mississippi and broke her arm, she got right back up and completed the race. It is this grit and accomplishment that made her the perfect recipient of the 2021 Female Athlete of the Year honor.
Tere, who hails from Madison, MS, has won many races despite falls, including Gold in the 2018 and 2019 State Games. The 47-year-old has also won a Silver in the Games, plus was the Champion in her category in the Gulf Coast Regional Mountain Bike series in 2018 and 2019.
Sports Commissioner Grayson Edwards said, "Tere does not know the meaning of the word 'quit.' Tere took a tumble off her bike and injured her wrist early in the race, but got up and kept walking the course, determined to finish. Race officials alerted the on-site ambulance crew, but Tere wanted to continue. Her determination to finish despite a difficult challenge earned her this nomination."
Cooper Conner • 2021 Youth Athlete of the Year
The 2021 State Games of Mississippi Youth Athlete of the Year faced a devastating time before his first soccer game because his dad suffered a massive heart attack. Twelve-year-old Cooper Conner of Wiggins, MS, came straight from the hospital and stayed with his soccer coach and team while his dad was in surgery. Despite his worry about his father, Cooper said "I know my Dad would want me to play and I can't let my coach or teammates down."
Cooper played in the soccer competition Saturday; his dad died that afternoon. After hearing and digesting the awful news, Cooper said he wanted to stay and play the Sunday games in honor of his father.
"His courage was remarkable," said his coach. "He even made a goal during the Sunday game from a penalty kick."
Cooper's resilience was also tested in March of 2020 when he fractured his ankle during a game. He was in a wheelchair, then crutches before he could walk again. He came back faster and stronger, playing with his team in August 2020.
LeeRoy Carpenter • 2022 Male Athlete of the Year
The 2022 State Games of Mississippi Male Athlete of the Year, LeeRoy Carpenter of DeKalb, has been participating in 5K events for five years, all the while overcoming several personal health challenges. When he was younger, he had an accident where a truck ran over him and the doctor told him he would never walk again. And in the past several years, he triumphed over a heart attack and two bouts of cancer. After his illnesses, he was inspired by his daughter to change his eating habits and exercise more, and, as he said, "this change has allowed me to feel better at my age while competing in 5K runs." He finds great joy in running with his daughter, Latora, and this year will be his third time doing the half-marathon in Meridian. As his nomination form said, "LeeRoy always brings a smile to each event and is an inspiration to his fellow participants."
Sarah Lea Anglin • 2022 Female Athlete of the Year
Mountain Biker Sarah Lea Anglin from Madison has been participating in the sport for three years, during which she won a gold medal in the 2022 State Games Mountain Bike event. Sarah Lea said this year's mountain bike course was the hardest she has ever done but was also "really fun." She has overcome a hernia surgery repair that took her off the bike for two months and was only able to get in one week of training before her first race. Sarah Lea has many achievements outside of the State Games, as she has placed in the 2021 Gulf South Regional Mountain Bike Series, the 2022 Oak Mountain Race, the 2022 Tux Creek Tussle Race and the Tuffburg Race. She was inspired to take up Mountain Biking because of her young granddaughter. Sarah Lea and her husband had been mentors in the MS Kids Cyclocross Program when her granddaughter said, "Why don't you race?" Sarah Lea said, "My first thought was, 'I'm going to die!' My second thought was, 'I have to do this.' These girls need to see someone out there riding and racing — giving it their best. Why not a grandmother?"
Kaylee Harrison • 2022 Youth Athlete of the Year
Youth soccer player Kaylee Harrison of Meridian has played on two travel teams as well as competing for her school soccer team. With all of that, she has maintained a 4.0 GPA and is taking advanced classes. Kaylee said, "This has not always been easy, but it has taught me self-discipline along the way, which is a lesson I can use throughout my life." Kaylee scored six goals in three games during the 2022 State Games and was able to bring home a gold medal to commemorate her last year to compete as a high school player. "The State Games have been such an important part of my life over the past seven years," she said, and she plans to volunteer for the Games next year. Kaylee has numerous achievements outside of State Games and has achieved the MHSAA 4A State Champion in Soccer beginning in 2018 through 2021. Interestingly, she started out the smallest player for her age but loved soccer so much that when she was on the field "it pushed me to give my all."
About the State Games of Mississippi
The State Games of Mississippi is now in its 32nd year offering top-level competition for Mississippi's amateur athletes in more than 40 sports.
The Games kick off with an exciting Opening Ceremony in downtown Meridian, complete with the parade of athletes, lighting of the State Games flame and fireworks.
The State Games of Mississippi keeps its entry fees low primarily through the generous donations of sponsors, including Founding Gold Sponsors: Meridian Coca-Cola Bottling Company and Ochsner Rush Health and Gold Sponsors: BlueCross BlueShield of Mississippi, Meridian-Lauderdale County Tourism Bureau, City of Meridian, Paul & Sherry Broadhead Foundation, Meridian Community College, Mississippi Band of Choctaw Indians/Pearl River Resort, WTOK-TV, The Meridian Star and WMDN/WGBC-TV (The Meridian Family of Stations). For more information on the Games, call 601-482-0205 or visit the State Games of Mississippi website at www.stategamesofms.org.