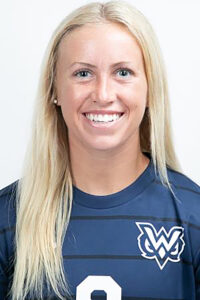 Moore Takes on Duties as 2023 Lead Intern
 MERIDIAN, MS — As the State Games of Mississippi gears up for more than 40 sports in May and June, Molly Moore of Meridian has been named lead intern for the 2023 season.
The State Games of Mississippi is the state's largest amateur sportsfest organization, annually holding more than 40 competitions across the state. When thousands of athletes pour into the East Mississippi area for competition and the annual Opening Ceremony, the total estimated economic impact is $12.2 million.
"We welcome Molly to the team as she dives into the very busy season for the State Games," said Executive Director of the Games, Missye Dozier said. "Molly is in charge of three interns, and will be invaluable in helping us with sports directors, volunteers and the Opening Ceremony."
A student at Mississippi University for Women, Molly is an All American Academic, 1st Team All American and is on the MUW soccer team. She looks to graduate in 2024 with a Bachelor's in Kinesiology Pre-PT and go onto Physical Therapy school. She is the daughter of Terry and Angie Moore.
About the State Games of Mississippi
The State Games of Mississippi is now looking to its 32nd year in 2023 offering top-level competition for Mississippi's amateur athletes in more than 40 sports. In 2022, more than 6,000 athletes competed.
The State Games of Mississippi keeps its entry fees low primarily through the generous donations of sponsors, including Founding Gold Sponsors: Meridian Coca-Cola Bottling Company and Ochsner Rush Hospital; and Gold Sponsors: BlueCross BlueShield of Mississippi, Paul & Sherry Broadhead Foundation, Meridian Community College, the City of Meridian, Pearl River Resort, the Mississippi Band of Choctaw Indians, WTOK-TV, The Meridian Star and WMDN/WGBC-TV (The Meridian Family of Stations). For more information on the Games, call 601-482-0205 or visit the State Games of Mississippi website at www.stategamesofms.org.